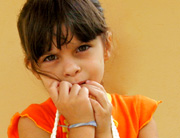 Info
Sreda, 17. Oktobar 2007.In accordance with the recommendations made by UN General Secretary in the Study on Violence against Children and objectives of the CE programme Building a Europe for and with Children, Ministry of Labour and Social Policy of Serbia and the Council for Child Rights of the Government of Serbia,... more »
News
BEGINING OF CHILDREN'S WEEK
Utorak, 02. Oktobar 2007.
On 1 October 2007 the begining of Childrens week was announced by the press conference in Media centre Belgrade.
Chidrens week (1-7th October) is traditionaly organised every year by the Friends of Children Serbia in partnership with Ministry of employment and social policy and Council for Child Rights of the Government of Serbia.
This years moto for the Childrens week is CHANGE THE WORLD - TURN TO CHILDREN! and the goal is once again to adress issues concerning conditions in wich children of Serbia live and asses level of implementation of child rights as well as means of improvment through activities performed for and with children.
These were also the topics adressed by the participants of the conference: Rasim Ljajić, Minister of Labour and Social Policy and President of the Council for Child rights, Vesna Piperski Tucakov, State Secretary for the Youth,member of the Council, Vesna Fila, Deputy Minister of Education,member of the council, Maria Luisa Fornara, Director of UNICEF office in Belgrade and proffesor Ivan Ivić, president of Friends of Children Serbia and member of the Council since founding.
At the end programme of activities for Childrens week was presented and participants invited to take part, first of all in activities dedicaded to children organized by several NGO's in Knez Mihailova street on 2nd October from 11-14h.