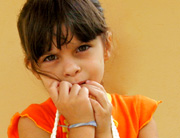 Info
Sreda, 17. Oktobar 2007.In accordance with the recommendations made by UN General Secretary in the Study on Violence against Children and objectives of the CE programme Building a Europe for and with Children, Ministry of Labour and Social Policy of Serbia and the Council for Child Rights of the Government of Serbia,... more »
Utorak, 02. Oktobar 2007.On 1 October 2007 the begining of Childrens week was announced by the press conference in Media centre Belgrade.Chidrens week (1-7th October) is traditionaly organised every year by the Friends of Children Serbia in partnership with Ministry of employment and social policy and Council... more »
Welcome to the internet presentation of the Council for Child Rights of the Government of Serbia!
The Council for Child Rights is a counseling body of the Government of the Republic of Serbia first established by the Decision of its Government on May 16, 2002. The actual members of the Council have been appointed by the Decision of the Government from August 23rd 2007. The mission of the Council is:
Proposing a coherent and holistic policy in accordance to the National Plan of Action for Children which will be based on the UN Convention on the Rights of the Child and in accordance with the global priorities established in the UN Millennium Development Goals, the UN Declaration World Fit to Children and other relevant international documents;
Initiating measures for harmonization of the policies of the Government of the Republic of Serbia with the legislation of European Union and international standards in the areas relating to children and young people (health, education, culture, social welfare);
Promoting awareness on child's rights in the country, with a special focus on rights of child to protection from all forms of exploitation, abuse and neglect and the right of children to inclusive education.
Analyzing measures and policies concerning children adopted by the Government and applied by the authorities so far and initiating new measures and policies in the area of child rights
Promoting participation of children in defining and implementing policies concerning child rights;
Main activities of the Council include: implementation of the National Plan of Action for Children (NPA) which was designed by the Council and adopted by the Government in February 2004 and supporting the implementation of the Local Plan of Actions (LPA) based on NPA. With assistance of the Council and support of UNICEF 16 municipalities in Serbia have so far developed their own LPA's. Also in cooperation with the Statistical Bureau of the Republic of Serbia a new software system for evaluation of implementation of NPA and LPA DevInfo has been produced and is constantly developing.
Council's activities also include continuous evaluation of the state of child rights in Serbia through periodical research and annual reports as well as analysis of living conditions and problems of the population under 18 years of age, which are then followed by suggestions of measures for their solving and prevention.
The Council has excellent cooperation with all the governmental bodies and organizations as well as with NGO sector in the area of child rights. Due to the courtesy of UNICEF Council is settled in premises in Svetozara Markovica 58. Partnership with the Save the Children Alliance resulted in participation of the Council in a Campaigne for legal prohibition of physical punishment of children launched by Save the Children UK and due to the professional and financial support of Save the Children Norway setting up of this internet presentation was made possible.